Erin Reilly
Creative Director
Arman Farsad
Experience Designer, Copywriter
Simon Quiroz
Lead Developer
Background
For the 2020-2021 academic year, nearly 58,000 students applied to UT Austin while the rates of virtual campus tours from high school seniors have skyrocketed 228% from what it was in 2019. Our client, UT Admissions, is charged to communicate UT Austin's brand and culture to nearly 70,000 prospective students annually via mailers and in-person campus tours. A meaningful visit is invaluable for prospective students and their families to imagine their lives on the Forty Acres and can set the stage for their long-term success.
Texas Immersive institute was tasked to have UT Austin stand out from the pack of colleges all clawing for the attention of digital-first 17-18 year olds. In addition, we were asked to share the story of what it's like to be a Longhorn - from living on campus, to the academic experience, to the long-lasting traditions and history of the 40 Acres. After our experience, prospective students should be able to envision campus life and be confident if UT Austin is the right choice for them.
Solution
Our experience can be summarized into three essential components that occur at three distinctly different touch points in the User's journey: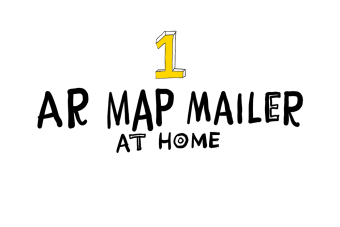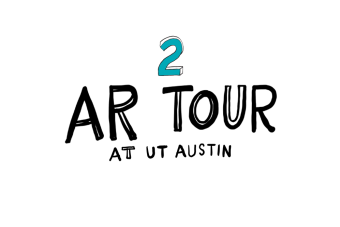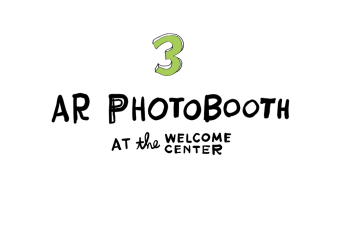 AR Map Mailer
Our first touch point with prospective students comes at home when they open an interactive map mailer that showcases an artistic depiction of UT Austin campus. We ask the user to scan the QR Code stamped on the bottom left of the mailer to enter the experience and have the map transform into an interactive playground. Try it for yourself!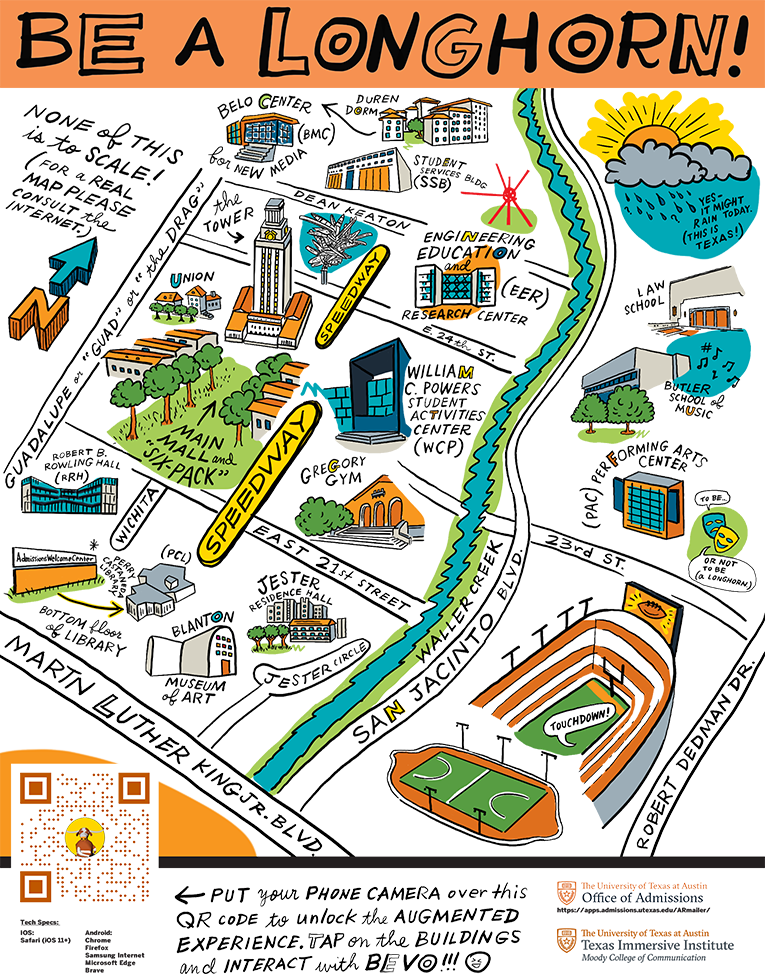 Our aim with this first touchpoint is to offer a taste of what campus looks like, give the student a feel of the university's culture, introduce UT's mascot, BEVO, and invite the user and their family to an in-person AR Tour of campus led by the mighty BEVO himself.
AR Tour
Once on campus, students and their families can explore the 40 acres with UT's mascot, BEVO, as their tour guide. Prospective students get the inside scoop on what there is to do around UT, meet characters that make the university special, and learn the values they'll need to be a Longhorn.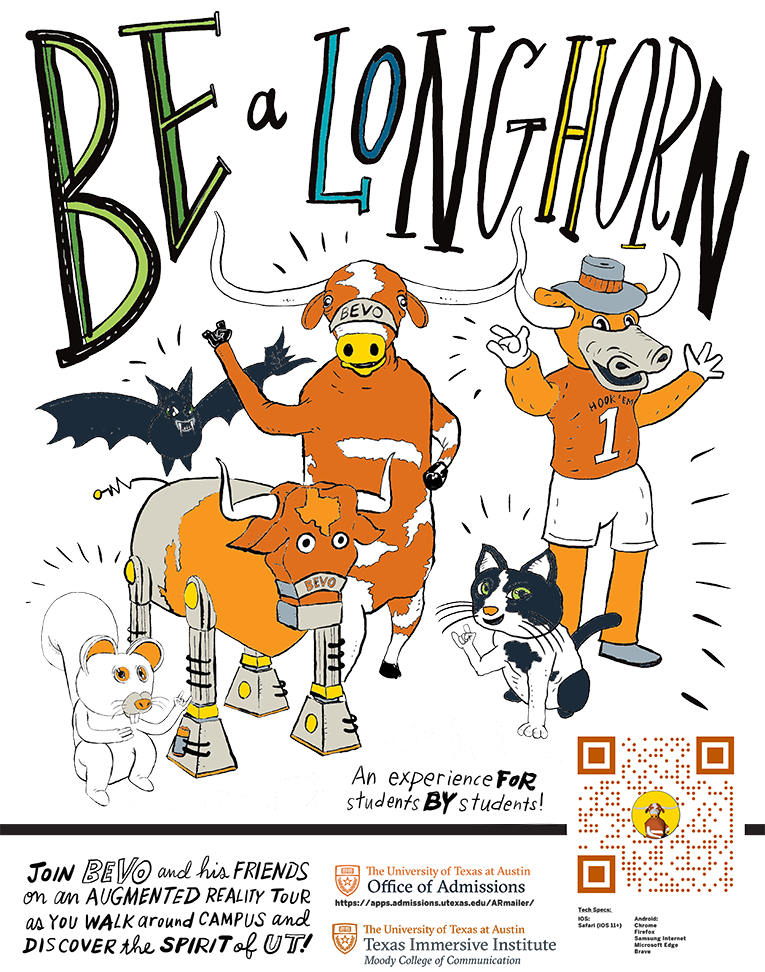 Post-Tour Email
After the AR Tour, an email is sent to the prospective student with personalized content from their participation in the tour as well as a teary-eyed farewell from BEVO.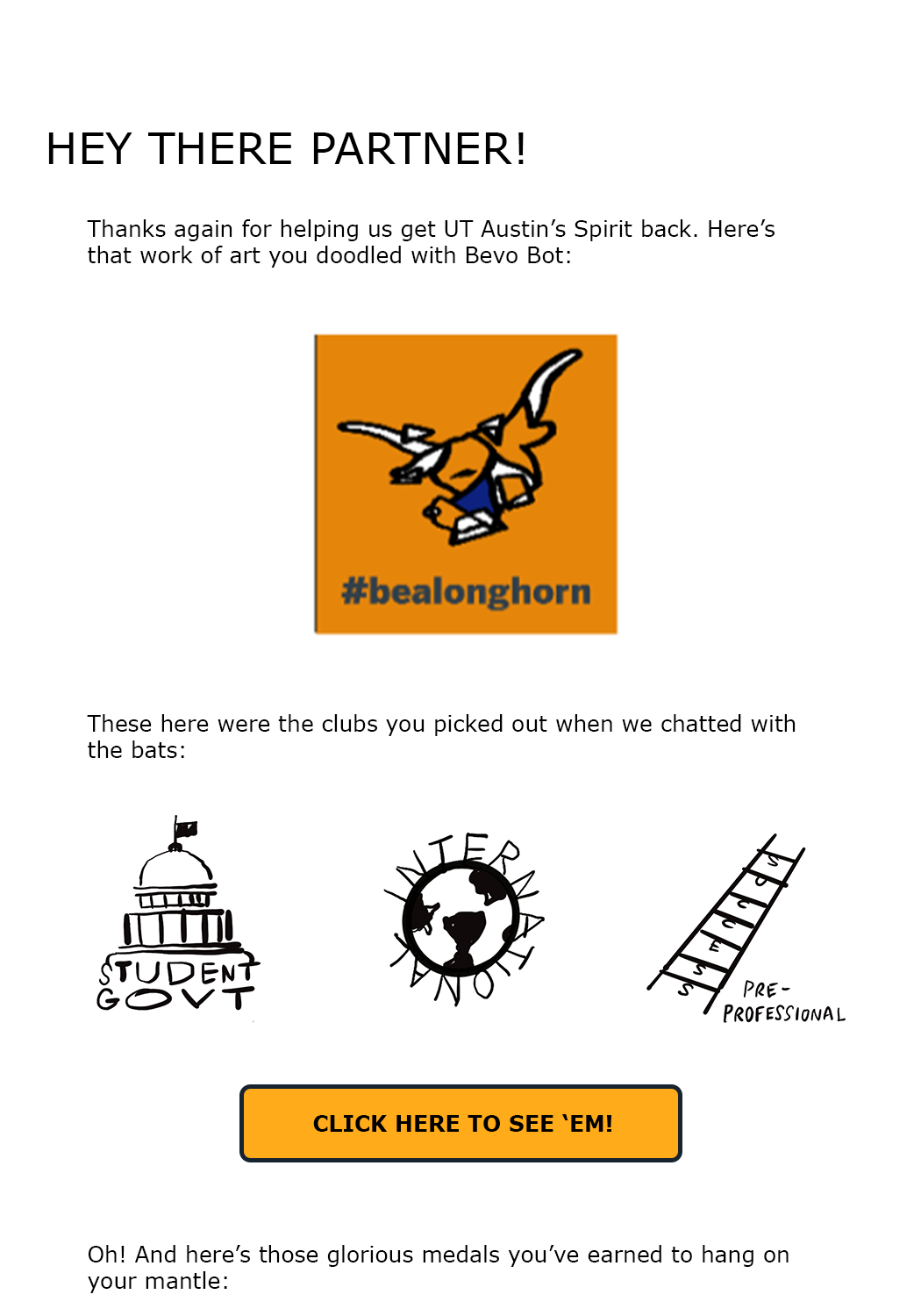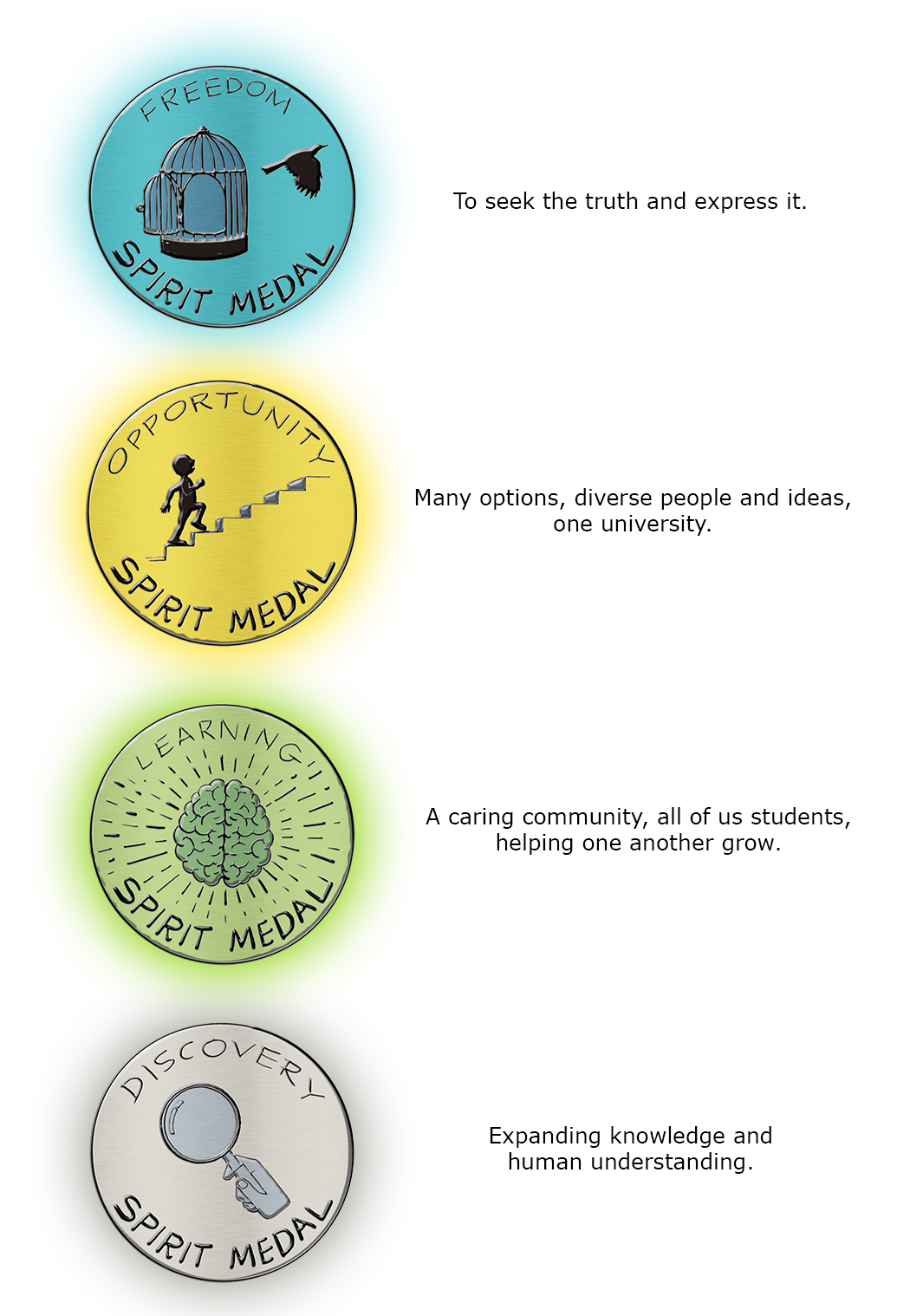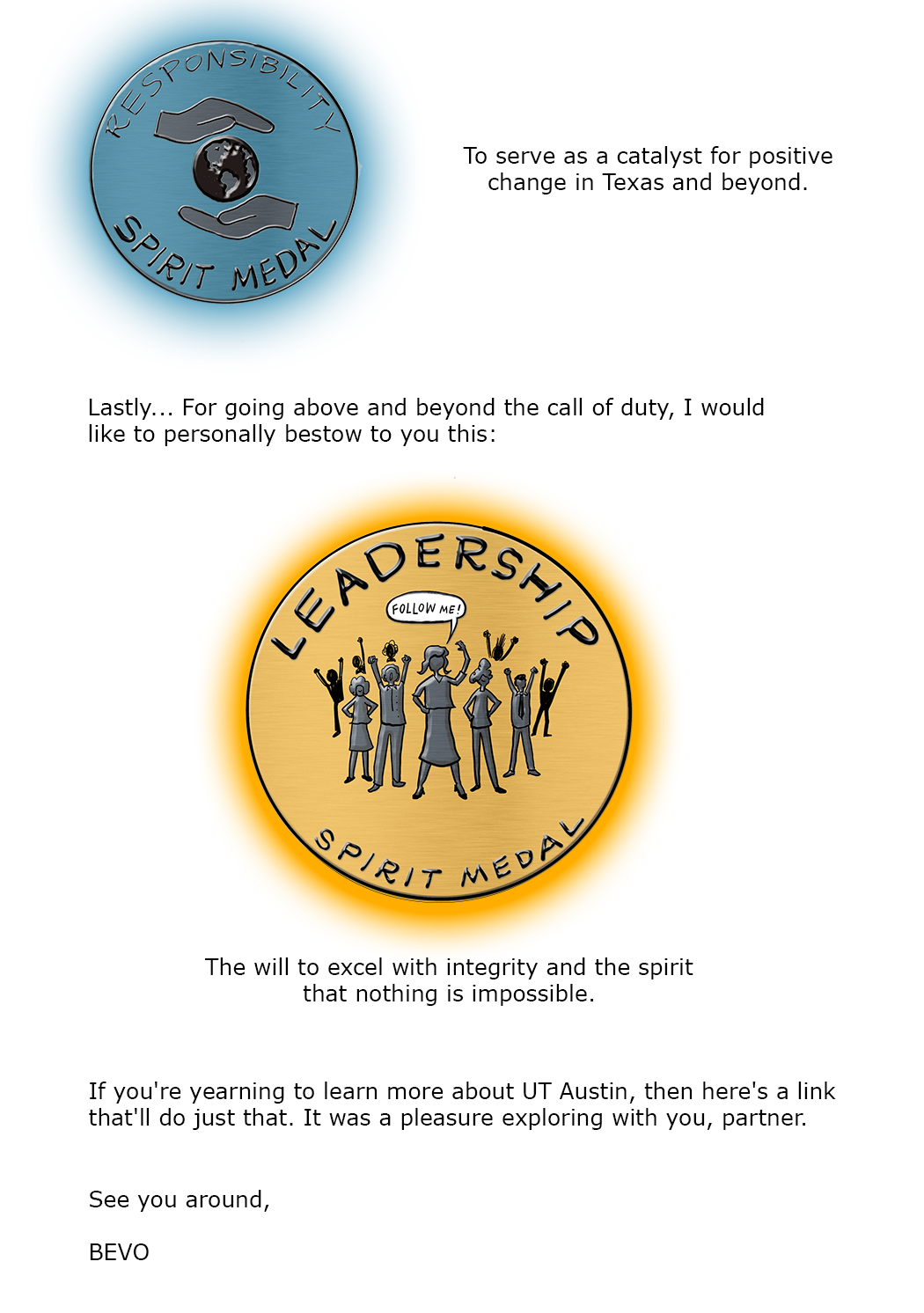 AR Photobooth
Once completing the tour, students and their families can rendez-vous back at the Admissions Center to rest & take photos with the characters they met on the tour. They can share their photo via email as a lasting memento of their adventures with BEVO and the rest of the gang.
The Technology
We chose 8th Wall's Web-AR for a number of reasons:
Low Barrier to Entry
---
According to PEW research, 96% of Americans ages 18-29 own a smartphone
 
Personalized & Experiential
---
The story revolves around the user's physical environment ensuring a personally impactful and sensorial experience. 
A Story-Driven Experience
---
Given that our story spans across 3 distinctly different environments, Web-AR is a frictionless way to incorporate space into our narrative structure.
Accessibility
---
The experience is cross-platform maximizing user participation
Scan & Play
---
Users can play the experience immediately
Licensing
---
We are the first university to have an educational license with 8th Wall.
 
Limitations
With any project comes unexpected hurdles:
Low Polygon Assets
---
Cinema 4D – blend shapes into gaming software doesn't understand it. Maya understood polygons and nitro bake.
 
Streamline Experience
---
focus on what's essential, the emotional impact – what will be remembered
Data Architecture
---
Personalization vs responsible for data. How do we share a message without having to rely on a database?
Allow for Replayability
---
All of the experience's data is in one stream over the web which could alienate users due to long load times, bigger assets, and a higher entry level for more advanced mobile devices
In Conclusion
Ultimately, any campaign that has a focus in retail, e-commerce, or advertising should prioritize intimacy between an audience and the brand through a story-driven experience. Additionally, ensure accessibility by building in a technology with a low barrier to entry to ensure that the experience is speaking to as much of its audience as possible. Our team can see replicating this for other universities or even expanding this story-frame to museums!